NYPD Commissioner Apologizes To Rape Survivor 24 Years Later: 'We Were Wrong'
U.S. NEWS
NYPD Commissioner Apologizes To Rape Survivor 24 Years Later: 'We Were Wrong'
James O'Neill said the police department, which publicly doubted the woman's account in 1994, "let her down in almost every possible way."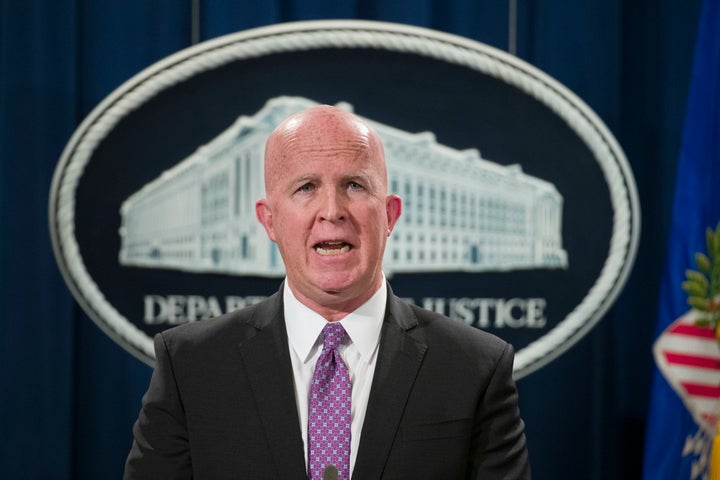 In a rare and remarkable admission of failure, the head of the New York Police Department issued a "long overdue" public apology to a rape survivor whose 1994 complaint was met with skepticism by investigators.
"We were wrong then," police Commissioner James O'Neill said in a statement on the police department website on Sunday. "I want us to be right today."
The survivor, who was in her 20s when she was sexually assaulted and is now 52, told The New York Times that the commissioner's contrition caught her very much "by surprise."
"I wanted to see this happen so that the NYPD would have to take a public stance in support of survivors, so that there would be a public statement that would make it clear that it was safe and beneficial for survivors to come forward to the police, and that they would not be attacked or pilloried by the police," she said. "I was very caught by surprise to see that acknowledged in black and white."
The woman told police in April 1994 that she'd been raped in Brooklyn's Prospect Park in broad daylight. She provided a detailed description of her attacker and DNA evidence was recovered. But some NYPD investigators cast doubt on the woman's account.
Citing unnamed police sources, New York Daily News columnist Mike McAlary, who died in 1998, wrote in a column published soon after the attack that the woman had invented the assault to promote a rally for lesbian and gay rights that she'd been participating in. "Rape Hoax the Real Crime," read the headline on McAlary's column.
In his apology this week, O'Neill, who has been police commissioner since 2016, said there was "zero justification for the additional trauma" caused by the NYPD doubting the woman's claim.
"This woman's pain was only made worse by our collective actions, which were and always will be wholly antithetical to the values of the NYPD," O'Neill wrote. "She had the courage and strength to report a heinous crime, to push our detectives to conduct a full and thorough investigation, and to try to help apprehend her attacker and protect other women. But we let her down in almost every possible way."
As The Guardian noted, the NYPD later backtracked on initial skepticism and acknowledged that semen had been collected from the survivor's clothing. The woman's DNA had commingled with her attacker's, however, and technology at the time didn't allow differentiation of the two.
No one was apprehended for the crime, and the case lay dormant for decades. It wasn't until January that the NYPD announced it had finally solved the case.
The survivor reportedly "wept with joy" when told her attacker had been identified.
"She's feeling a combination of pain, confusion and relief," her lawyer Martin Garbus told The Guardian at the time, adding that his client was still waiting for the NYPD to apologize for mishandling her case.
Former police Commissioner Bill Bratton apologized to the survivor back in 1994, saying there should not have been a "police role" in suggesting the woman's claim was a hoax. But the NYPD never issued a full, and formal, apology until now.
O'Neill said in his statement that he was "deeply and profoundly sorry" to the survivor for "all aspersions cast upon your credibility by NYPD personnel those many years ago."
"We know the damage that sexual assaults inflict on survivors. Compounding that damage with insensitive comments and wild conspiracy theories only further amplifies the cruelty and injustice of the initial crime itself," he wrote.
Garbus, the woman's lawyer, called O'Neill's letter "remarkable," and told the Daily News his client  "never believed that she would see the day that there would be such a full and complete apology."
The survivor is "grateful" to the commissioner for acknowledging the mistakes the NYPD made, the attorney added, though he said O'Neill should have gone further to "highlight the people in the police department that allowed this to happen."