Earring Display Helps People Hear Voices of Missing, Murdered Native American women
by KIRK BOXLEITNER, Marysville Globe Reporter
Jan 15, 2016 at 4:02PM
TULIP, WA — The earrings are beautifully crafted, but what they represent makes them difficult to look at.
That was the consensus on the evening before the "Sing Our Rivers Red" traveling earring exhibition opened to the public at the Hibulb Cultural Center.
The exhibit presents 1,181 single-sided earrings, each one representing a different Native American woman who's been reported murdered or missing in the United States or Canada.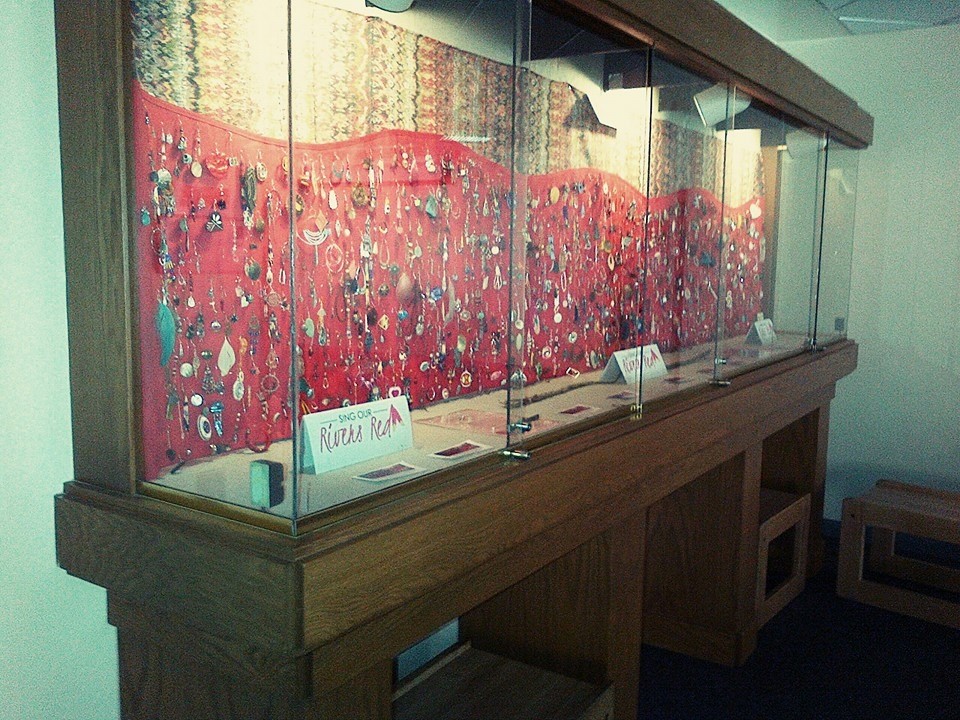 "This helps us hear their voices," Tulalip Tribal board member Theresa Sheldon said Jan. 8.
Opening prayer drummer Jason Gobin agreed: "It's powerful to see all these earrings because of all the hurt and anger they represent, but this is the reality of what's happened."
Deborah Parker, former vice chairwoman of the Tulalip Tribes, is intimately familiar with this issue, as an advocate for the passage of the reauthorization of the Violence Against Women Act in 2012, and as a survivor of sexual assault and abuse herself.
"It's hard to even talk about," Parker said. "We might not always have the words, but we have to fight for those who cannot speak for themselves."
Parker had joined U.S. Sens. Patty Murray, Barbara Boxer and Amy Klobuchar in calling for tribal justice officials to be allowed to bring non-Indians who commit crimes against women on tribal lands to justice. Before VAWA was passed with this provision, federal prosecutors declined to prosecute a majority of sex abuse-related crimes in Indian country.
"I'd wondered since I was a little girl why indigenous women didn't receive the same protections as others," said Parker, who recalled seeing native girls as young as 14 on inner-city streets. "I was told not to get involved because that can hurt the victims of sex trafficking. I'd ask them if they wanted to come home with me, just for some pizza, but they couldn't."
Parker cited native women's significantly higher likelihood of committing suicide or being murdered, and asserted they shouldn't be condemned for any drug or alcohol problems.
"That shouldn't matter, because these are still human lives," Parker said. "These are still someone's daughters, and as much as anyone, their families need closure. Many of them don't know where their loved ones are."
Due to jurisdictional loopholes, Parker has heard many non-Indian prisoners tell each other that, if they rape a native woman on a tribal reservation, they can get away with it. It's only recently that this has begun to change, as more such cases are finally heard and prosecuted.
Citing the statistic that as many as one-third of indigenous women in North America are raped, Parker urged Native Americans and non-Indians alike to educate themselves and others.
"When we ask what we're going to do about this, it's tempting to say, 'I'm just one person. What can I do?'" Parker said. "You can talk about it, to your neighbors and relatives. You can keep speaking out about it, and teach your children to be respectful to each other. We can change this. We need to."
Returning to the earrings on display, Parker noted that they represent a mere fraction of the numbers of missing and murdered indigenous women in North America, with nearly 1,500 such cases recorded in Canada alone.
"It's okay to feel hurt," Parker said. "I'm angry, but I'm very hopeful."
The Tulalip Tribes are one of three tribal jurisdictions to pilot the implementation of VAWA provisions enabling the cross-jurisdictional pursuit of perpetrators with the aid of outside law enforcement agencies.
The "Sing Our Rivers Red" exhibit will remain at the Hibulb Cultural Center through the end of the month.
KIRK BOXLEITNER, Marysville Globe Reporter
kboxleitner@marysvilleglobe.com or 360-659-1300 Ext. 5052