Domestic Violence Awareness Month 2014
Below are photographs of events held across the country to celebrate Domestic Violence Awareness Month.
Florida's Capitol beautifully lit up in purple.
Clothesline Project set up by Bright Horizons at the West Holt Hospital and Clinic in in Atkinson, Nebraska.  Bright Horizons is a dual DV/SA program that serves many smaller rural NE communities. This particular community of around 4,500 people is located in the north-central section of the state in Holt County. This is a rather remote area so there are many of its members living on farms and ranches. Its location makes this outreach effort very important!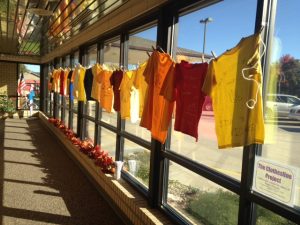 The Pennsylvania Commission on Crime and Delinquency hosted many events for Domestic Violence Awareness Month including a cell phone donation bin, clothesline project decorations, the empty place at the table display, and awareness ribbons for people to take. In addition, staff are sending out a weekly email on DV to the whole agency and they have placed  awareness information in the stalls in the bathrooms.  On Fridays during the month, they bring in a food treat, wear purple in support, and  have DV in-service trainings.
Maury County, Tennessee courthouse with purple lighting for DV awareness month.
One of New York State's most recognizable landmarks – Niagara Falls – is bathed in purple light to raise awareness about domestic violence.  Also shown is the Violence Against Women Unit at the NYS Division of Criminal Justice Services, as well as the Commissioner and other staff of that agency wearing their purple.
In Boston, Massachusetts, the Leonard Zakim Bridge (the widest cable-stayed bridge in the world) goes purple for Domestic Violence Awareness Month.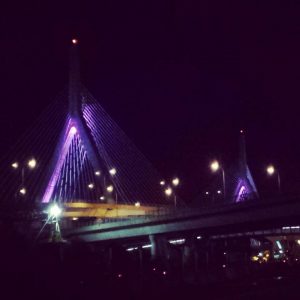 In New Mexico, the Roswell Refuge Domestic Violence Shelter displays purple bicycles for Domestic Violence Month.  La Casa, Inc. staff participate in "Spirit Week", showing their purple to help bring awareness to Domestic Violence Awareness Month.  A volunteer with La Casa, Inc a Domestic Violence Shelter in Las Cruces, created the afghan pictured below to celebrate Domestic Violence Awareness Month.  Albuquerque Domestic Violence Shelter shared Native Women's Society of the Great Plains's to celebrate Domestic Violence Awareness Month.
In Delaware, Governor Jack Markell officially declared October as Domestic Violence Awareness Month.   At the event, Brittany Lewis (Miss Delaware 2014) spoke.  Her platform is Domestic Violence.  She is a survivor of a cousin and sister that were both killed by their partners. Also speaking was Carol Post, Executive Director of the DE Coalition Against Domestic Violence.  Pictured in the group photo are Sen. Patricia Blevins, Gov Markell, Miss DE, Carol Post and Brian Eiermann, a University of Delaware student, president and co-founder of Men's Action Network (MAN).  ("MAN is dedicated to educating, engaging, and empowering men around issues of healthy masculinity to help change gender norms and end sexual and dating violence on campus.")